Veit BAT1 poultry scale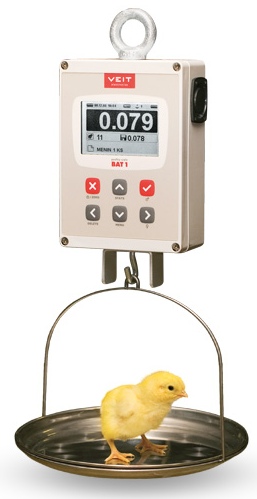 Used worldwide, the BAT1 is the clear top performer in manual weighing today. To optimize production and maximize profit, a large number of production professionals and managers rely on data generated by BAT1 scales.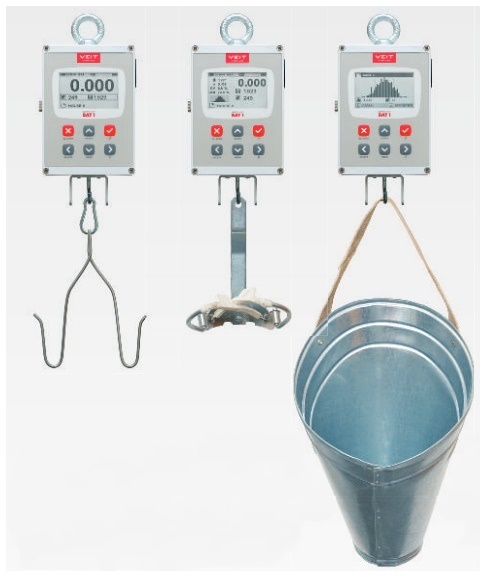 The BAT1 Manual Poultry Scale offers you all the extras you can think of when weighing poultry manually. Portable, battery-powered scale for quick weighing of live birds will instantly provide you with any kind of data about the flock. Large graphic screen, high memory capacity and long battery life are just some of the features that make the scale so popular and user-friendly. A wide range of available hook systems makes our scale suitable for all types of poultry. The powerful PC software saves you time and headaches while the results are determined by a computer. With advanced features such as automatic histogram generation and growth curves, managing data from all your farms has never been easier.
Translated with www.DeepL.com/Translator (free version)
---
User-friendly weighing
One scale for all birds
The BAT1 can be used for all types of poultry, from day-old chicks to heavy turkeys – always with 1 gram resolution.
Handy design
Smartly designed, lightweight scale BAT1 offers intuitive operation, easy handling, convenient and fast work.
---
Large graphic display
The illuminated high-resolution display can show more detailed information than common scales and is easy to read. You can choose from a selection of different information display modes.
Internal loudspeaker
The scale contains an internal speaker, which beeps every time a new bird is placed in memory. It is a classic SIgnal to hook the next bird and make the work so fast and fluid.
---
Internal clock
Each entry of a new bird in the memory contains exact date and time of weighing.
Wide range of languages
Firmware, PC software and user manual – all translated into 14 languages. Choose the one you prefer.
---
Powerful battery
A modern Li-Ion battery with a battery life of up to 27 hours makes the BAT1 a mobile device. You can charge the scale on the mains, via the USB port of a PC or in the car.
Model for extremely heavy birds
The standard BAT1 is made for birds with a maximum weight of 30 kg, which is usually more than enough. For demanding customers who work with heavier poultry, we have a special variant of the BAT1 for up to 50 kg.
---
Smart functions
Gender Orientation
When both roosters and hens are weighed, the record of each weighed bird contains information about the sex. Statistics are calculated separately for each sex and for all birds together.
Weight sorting
The birds can also be sorted into 2 to 3 groups based on weight. The statistics are again calculated separately for each sex and for all birds together.
---
Automatic data processing
Instant access to the results
You can view the statistical data on the display at any time. The results are continuously updated during weighing, so they are always up to date.
Easy export and import
Thanks to the software, the data can be easily shared among different farms. You can conveniently collect the data from all your farms centrally.
---
Sophisticated PC software
Forget about calculating anything on your own and transferring data manually to Excel spreadsheets. The powerful BAT1 software automatically displays statistics, histograms and growth curves of all your herds. No matter how many farms you have and how many scales you use, BAT1 software will unify all data into results and graphs that are understandable for everyone.
Flock management
With BAT1 software you can manage your herds very effectively. You can compare individual herds on your farm, compare the yield of the individual farms of your company, compare the yield of your herds with standard growth curves and much more.
---
Accessories
Large selection of hooks
Each scale includes a basic hook to hold the birds. As an option, additional types of hooks can be purchased to speed up the weighing process.
Portable printer
A portable, battery-powered printer can print out a weighing report immediately after weighing.
---
Carry case
With the hard carrying case, your scale is protected during transport.
Car charger
Do you travel a lot with the scale? With a car charger you can charge the scale in your car.
---
External battery set
Extend the operating time (By up to 5 times) between charging, or always have a suitable backup battery set at hand.
Additional sorting lights
The color-coded LED lights next to the display clearly show you which weight group the current bird falls into, even if the audible signal alone would not provide a clear indication.
---
Specifications
Manual poultry scale BAT1
---
30 or 50kg (60 or 100 lb)
(according to selected model (BAT1 30kg or BAT1 50kg)
30 or 50 kg (60 or 100 lb)
(according to selected model (BAT1 30kg or BAT1 50kg)
---
---
11 700 birds in 199 groups
---
---
---
---
Windows XP/Vista/7/8/10 compatible with older BAT1 scales